Consultant in maritime history and creative lifestory
Welcome to my website
I'm a creative historian who works with museums, universities and in the community. Women who went to sea - whose travel transformed their lives forever - are my special area of expertise.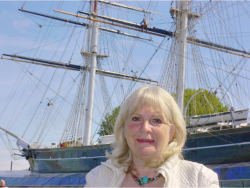 My especial interest is in the stories of people who have led marginalised lives in the past - and sought adventure, freedom and the space to be all they are, and might become.
In particular this means recording people, or helping them write their stories. They tend to be people who've taken jobs at sea despite the odds (like women and non-white people) or LGBTQI people - for whom seagoing meant sometimes queer heaven and sometimes injustice.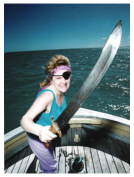 Ships are hypersexualised spaces. As a would-be sexologist as well as cultural historian, that's fascinating to me. They're heterotopias (meaning other places, like Wonderland) and liminal zones, which means they explain a lot about our societies on land.)
I live in Marsden in the Pennines, and work a lot in London and abroad. At the University of Hull's Maritime Historical Studies Centre I am an Honorary Research Fellow.
What they say about me
Thurs 29 Sept 2016. London: Women in Politics group, Kings College: Series on Women in the Professions.
Speakers:
Lt Commander Lucy Ottley, RN: 'Woman and the Royal Navy.'
Dr Jo Stanley: 'Woman/sea captain: a contradiction in terms? The history of gendered achievement and hegemony in the Merchant and Royal Navy.'
Free. All welcome. 18.00 - 20.00. Franklin Wilkins Building, FWB 1.10, Kings College Waterloo building, Stamford Street, London SE1 9NH. www.londec.co.uk/FWB-directions.pdf
Old sea dog's lament
Give me a baboon to sail with,
Even a snake would be great,
They would both be a vast improvement,
On a female person as a mate.
Jo Stanley says:
Deck and engineering officers on merchant ships were, until the 1970s, men. Women have climbed the professional ladder mainly in the hotel-management side of sea work on cruise ships.
Royal Navy ships only allowed women at sea from 1990. There is still no female admiral. How has a seafaring career been different from a land career for women over the past 250 years, and why? My highly illustrated talk will explore this.
What's next
March 2017: My new book, Women and the Royal Navy, (IB Tauris/ National Museum of the Royal Navy) will be launched.
Pre-order it for £14 instead of £20 RRP via www.ibtauris.com/royal-navy and enter the discount code AN2 when prompted.
Already you can buy merchandise using this image
Forthcoming articles
Late Spring 2017: Cubah Cornwallis: the black nurse who saved Nelson's life in Jamaica, Trafalgar Chronicle (special edition: 'Nelson's other women').
Summer 2017: Stories of pioneering stewardesses who sailed to West Africa, on the forthcoming website of the Elder Dempster Lines Heritage Archive Project.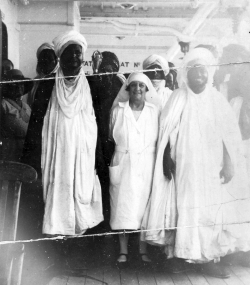 Stewardess Julia Andrew sailing on Elder Dempster vessel c 1926. Photo courtesy of Grace Pritchard.